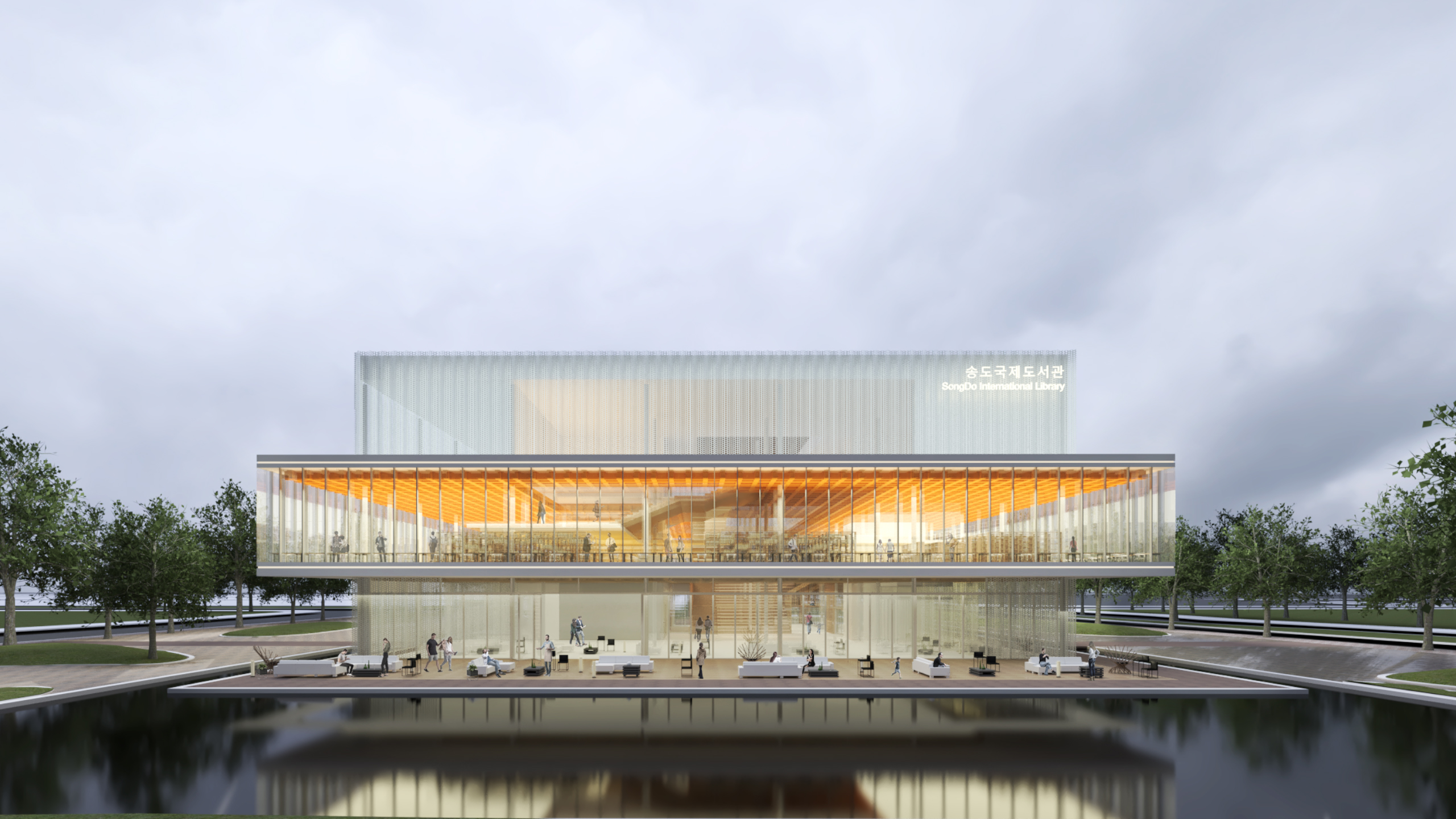 대지위치 : 인천 연수구 송도동 115-2
대지면적 : 9,427.40 ㎡
건축면적 : 2,530.10 ㎡
연면적 : 8,191.80 ㎡
규모 : 지하1층, 지상3층
Location : Songdo-dong, Incheon
Site Area : 9,427.40 ㎡
Floor Area : 2,530.10 ㎡
Total Floor Area : 8,191.80 ㎡
Building Scope : 3F, B1F
녹지로 둘러쌓인 환경에 바다와 골프클럽을 바라보고 있는 아름다운 위치에 놓인 대상지에서 누각같은 곳에서 예술과 문화를 향유한 선조들의 지혜와 휴식을 계승하는 방식으로 송도도서관을 제안한다. 도서관의 화려한 모습보다는 전통문화가 살아숨쉬는 절제되고 차분한 모습을 그려낸다. 핵심 디자인은 정문 및 하부 출입구 모두에서 사용자의 접근성을 연결하기 위한 하나의 큰 축을 제시한다. 현장 건너편 축을 통해 접근하는 관람객은 산책로를 따라 걸으면서 두 개의 진입마당(환영광장, 진입광장)을 만나 자연치유를 체험할 수 있으며, 지혜의 동산, 수변정원, 어린이 놀이터 등을 만날 수 있다. 본 계획안에서는 라운지를 공간 배치 개념 중 중요한 포인트로 선정했다. 송도도서관은 방문객이 365일 쉬지 않고 도서관에 오는 도시거실(도서관 거실) 개념으로 생각해야 하는데 다만, 주민들이 경치를 감상하고 정원에서 책을 읽으며 이웃과 만나고 문화예술이 만나는 일상공간인 특별한 라운지(골프클럽 라운지)도 특별하게 설계했다.
The target site has a beautiful picture-like landscape, as it surrounded by green areas and facing in front of ocean and golf club On this natural
landscape, we propose Song-do Library as an object like a pavilion on the natural landscape the inherit the wisdom and relaxation of our ancestors who enjoyed the arts and culture. In addition, rather than a splendid appearance of library. It will portray a restrained and calm image where the traditional culture lives and breathes. The proposed design presents a single large axis to connect the user's accessibility from the both main entrance and sub entrance. Visitors approaching through the axis across the site will meet two entry yards(welcome plaza, entry plaza) and experience the natural healing in the city when walk along the trail to meet the garden of wisdom, waterfront garden and the playground for children. A lounge is the primary concept for spatial layout. Songdo library should be considered as urban living room(library living room) where people never stop coming to library 365days a year. It is especially designed for community providing a special lounge(golf club lounge), however, day-to-day space, where residents enjoy the scenic view, read a book in the garden, meet with a neighbor, and come across culture and arts.